25 May 2012
To mark this week's 100th anniversary of Belgravia House - the building in which we work - we will be making a donation to Fegans, the charity that built the premises a century ago.
"An inscription on Belgravia House's foundation stone is dated to May 1912 and refers to a 'House of Mercy' founded by 'Mr Fegan's Homes,' which was somewhat intriguing," says Clare Boulton, Librarian at the RCVS Charitable Trust, also based at Belgravia House.
"So, we contacted Fegans – which is the present-day charity – and they helped us to uncover the building's history."
In fact, Belgravia House was originally built as a shelter for young homeless boys and as a hostel for poor working boys, as well as for the Mr Fegan's Homes' headquarters.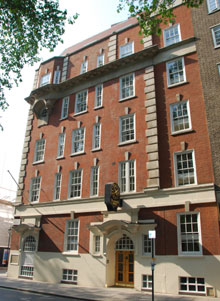 The building was called 'The Red Lamp,' referring to a lamp on the roof, intended, as the charity's magazine reported, to "shine night by night as a beacon of hope and help".
The outbreak of World War I forced the hostel and shelter to close, with the offices and advisory centre remaining open until damage from an air raid during World War II closed the building down.
The building was subsequently repaired and, in 1995, became the premises of the RCVS.
Funds for the donation to Fegans will be raised through a 'dress down Friday' day today for RCVS and RCVS Charitable Trust staff.
Read more about the history of the building in the RCVS Trust Library's blog.