27 July 2012
The Olympic flame finally arrived in Westminster yesterday accompanied by the Household Cavalry, and passed close to the front door of Belgravia House en route to the Olympic stadium, having already been carried by at least three veterinary surgeons (that we know of!) elsewhere in the UK.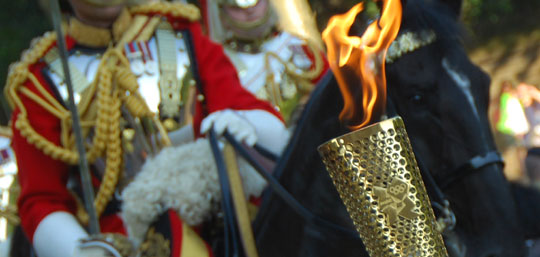 Former Council Member and President of the RCVS, Neil Gorman FRCVS, carried the torch through the streets of Nottingham on 29 June.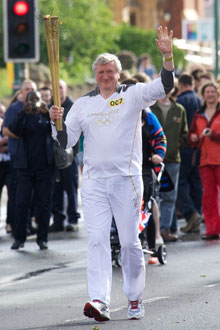 Currently Vice-Chancellor of Nottingham Trent University, Neil's nomination to be a torchbearer describes him as an international authority in veterinary science, who has received numerous academic awards, including honorary doctorates from the universities of Glasgow and Liverpool and an honorary fellowship from Wolfson College, Cambridge.
Neil (pictured right) also admitted to not running as fast as he used to!
Mixed-animal veterinary practitioner Andrew Robinson MRCVS was nominated to carry the torch in Workington on 21 June, for contributions to his local community over the past few years.
Andrew, from Cockermouth, set up the North Lakes Foodbank in 2009 to co-ordinate the collection of tinned and dried food from churches, schools, community groups & individuals and then help feed people in crisis by providing food, whilst other agencies help them find solutions to their problems.
According to Andrew's nomination story, the Foodbank fed 464 people in 2010/11 across North Cumbria and was on target to feed more than 800 people in 2011/12.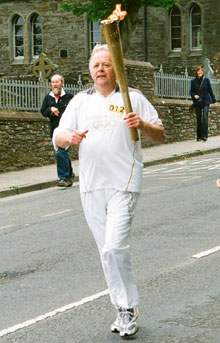 Meanwhile, in the far north of the country, Orkney Islands veterinary surgeon William Stewart MRCVS was chosen to carry the torch in Kirkwall on 10 June.
Willie (pictured right) was nominated by the Orkney Rugby Football Club, in recognition of the 20 years he has spent coaching children at the club to play rugby.
He said that the only interruptions in these two decades of coaching were due to two foot and mouth disease outbreaks.
"It was a humbling but amazing experience especially as lots of people have turned out to cheer on the flame not just in Orkney but all over the country," said Willie.
"I now am the proud owner of an Olympic torch, which I intend to keep!"